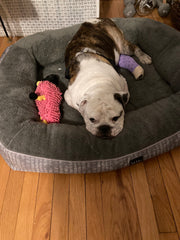 Winston's Monthly Medication Sponsorship
Winston is on a well managed monthly system of medicine to keep his gut in check, his behavior in order and his overall health in line.
Medicine 
Calculated Monthly Cost 
Best Priced Source 
Gabapentin 300 mg
$10.58
Vet

Lexapro 10 mg 
$23.00
Costco 
Atopica 100 mg 
$392.64
Chewy or Walmart

Prescription Bowel Diet:   1 bag  month 
$105.00
Chewy

Vitamin B Injection 
$10.00
Vet

Total Monthly Cost 

$541.22

 
We have 12 monthly sponsorships available for his ongoing care.  
Please help us!