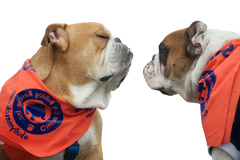 General Donation
**Double your impact!! Check your employer for matching programs.**
Your support means so much to us. Without the support of people like you we wouldn't be able to help bullies in need. Our program is dependent on donors and 100% of your donation will go to the medical care of the bullies currently in our program.
NOTE:  YOU MAY ADD AN OPTIONAL COMMENT WITH YOUR DONATION UPON CHECKOUT (I.E. IF YOU ARE MAKING THIS DONATION IN HONOR OF A PERSON OR PET). 
FOR THESE TYPES OF DONATIONS PLEASE INCLUDE THE

NAME

OF THE PERSON/PET IN WHOSE NAME YOU ARE DONATING AS WELL AS A WAY FOR US TO CONTACT THEM TO ALERT THEM OF YOUR DONATION.  THIS IS CRITICAL. WE NEED EITHER AN

EMAIL ADDRESS

OR

FULL MAILING ADDRESS.
Chicago English Bulldog Rescue, Inc. NFP is the oldest bulldog rescue in Illinois and is an approved 501(c)(3) charitable organization recognized by the IRS and the Illinois Charitable Bureau. Your donations are tax deductible to the fullest extent allowed by law. We sincerely appreciate your generous support.